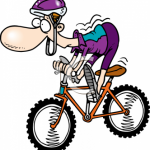 So, back to 12 pounds in 28 days. I've shed 5 and I have 19 days to go. I'm definitely on track!
Getting through New Years without totally inhaling the most delectable foods available to mankind was an act of self control I'll never be able to muster together again! It was will power at it's best. I'm in awe of myself. Well, that might be a bit of an exaggeration, but you get the drift. I did good.
I'm getting a little bored with the walking thing, so yesterday was the day to break out the bike and hit the road! I went full throttle, took the long way around the island, tackled the roller coaster hills like a professional. Did 11 miles on shaky sore legs, soon barely able to make contact with the seat of my bike, so tender was my…..anyway. I drenched my shirt and my head was shriveling under my helmet, the body heat from my intense workout melting the extra pounds right off of em as I tore up the road.
Back at the house, I did crunchies and crunchies and crunchies! What I didn't do though, was stretch. Today is a quiet day at home. I can move, but just enough to get to the bathroom or the kitchen or my computer.  Soon as I think I can get up from the floor if I get down on it, I'll stretch for a while. Maybe I'll look for that lost earring I've been meaning to find before I vacuum and it's gone for good. Also, the dogs like it when you get down on the floor and play with them. I could do that.
Well, I guess I'll never write a fitness book entitled "Do it MY Way!" Anyway, for anyone who's trying to shed a few pounds with me in the next 19 days, good job and keep going!
Later,
Mary Ann