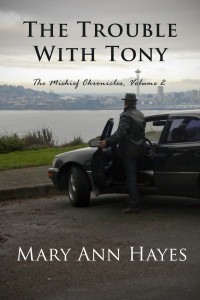 A mainstream romantic comedy, The Trouble With Tony, propels the reader into the crazy life of a just-barely-legitimate, yet somehow lovable Private Investigator, Tony Russo.
Tag along with Tony while he uncovers the truth behind an "accident" resulting in the death of a woman whose husband has spent his life stalking another woman; his long ago high school crush, Vicki Wellington.
Harold Lawson will stop at nothing now that the path has been cleared for his new life (the life he's always dreamed of) to begin with the woman he believes was always meant to be his.
The Trouble With Tony is Volume 2 of The Mischief Chronicles, following A Friend Like Frank. 
Both titles can be purchased from Amazon in e-book form or paperback. Happy Reading!