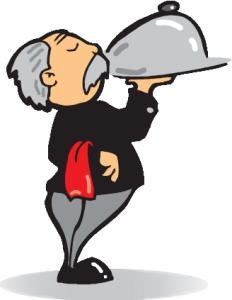 Now that's a question I've been asked a few times. In fact, I bet that's the number one most frequently asked question in the history of the world. What 's for dinner? After all, it's the most important thing on our minds from the minute we're born, right?
So, what is for dinner, anyway? I for one, am all taped out on the menu thing. I have no idea what's for dinner any more. I just can't keep coming up with what's for dinner. I'm a good cook; not a great one, but a good one. Yet, I'm tired of my own cooking. It's been going on for about 35 years. That's a long time.
Going out helps, occasionally. But it's a bit of a drive, and staying home is nice and the food is actually better than at most restaurants, and I can control the fat content. Eating low fat and natural foods is an issue in our household. We like it that way.
In my dreams, a chef shows up every evening and surprises us with what's for dinner. It's healthy and fresh and delicious and served on fine china. Then, the chef does the dishes before leaving. It's great. I have the left overs for lunch the next day.
It's most likely that dream chef will never show up, and my job of chief cook and bottle washer will continue. It's not that I really mind, I just wish I didn't have to think about it anymore.  I want to think about other things; like books and chocolates. Or how I'm going to lose weight, again, and why I already have a grow-out. Didn't I just have that taken care of? Anything but what's for dinner.
So, it's that time of the day. I need to sign off and head to the kitchen and decide….you know what. Any ideas?
Later,
Mary Ann