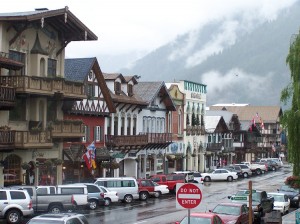 This is the time of year to head over Stevens Pass and spend a day in Leavenworth.  The drive is extraordinary, autumn on display like diamonds in a jewelers window. The river winds around the highway, or maybe it's the other way around, white water in places, stillness in others, salmon easy to spot.
When my husband and I make the drive it takes us forever to arrive at our destination. We have to pull over continuously to take it all in. It's impossible to appreciate the magnificence  flying by at fifty miles an hour. Colors of fire cover the mountains, rushing water, towering evergreens, traces of snow, all wrapped up in a days drive. And the air is as fresh as a new baby.
Upon arriving, Leavenworth is striking. The Bavarian Village transports visitors into a whole new world. Mountains encircle and tower over a village filled with the constant whir of activities and celebrations. I can hardly wait to get out of the car and begin to explore.
There are a few favorite places I can't wait to visit; the hat shop being one of them. It has more hats piled into one little store than sardines in a can and the variety is unimaginable.  There are a few art shops I can hardly wait to check out and of course, the book store.  And then, being a Bavarian town means good food and great beer produced by a collection of first rate micro brewery's. Just writing about it makes me want a Bratwurst smothered in sauerkraut.
I love the entertainment on the streets. There are people everywhere, activities going on inside and outside stores, restaurants, businesses. Somehow, Leavenworth leaves me in the best of Holiday spirits and puts sheer delight in this chilly time of year.
We haven't made the drive for three or four years and it's calling me. I think we should go for it!
Later,
Mary Ann