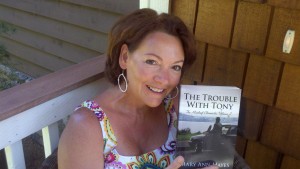 Tag along with just-barely-legitimate, yet somehow lovable, Private Detective Tony Russo, while he uncovers the truth behind an "accident" resulting in the death of a woman whose husband has spent his life stalking the one that got away; his long ago high school crush.
A story of contemporary mayhem, "The Trouble with Tony," written by Camano Island resident Mary Ann Hayes, is the long awaited sequel to "A Friend Like Frank," released in February, 2013.
"The Trouble with Tony" is available through Amazon in paperback and ebook form, through local book stores, and through the authors web site, www.maryannhayes.com.