A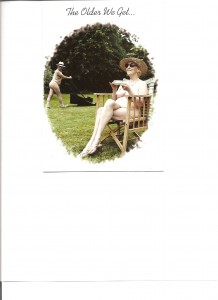 A friend sent me the above card the other day – in the mail, you know, the old fashioned way. I love getting cards in the mail. It's so infrequent any more.
Anyway, the card had me laughing for hours. Every time I looked at it I started laughing all over again. I simply couldn't get enough. I even carried the card around with me and set it on the kitchen windowsill so I could look at it while I was doing dishes, and in the laundry room when I was folding and ironing clothes. I'd just glance over and start laughing.
I've got you wondering, don't I? It's a great card, but it's one of those you have to be a little older to appreciate. It says, "The older we get…the less concerned we are with appearances."  On the cover is an elderly man, I'd say mid-eighties, mowing his lawn on what appears to be a lovely day. His wife is sitting in a lawn chair sipping tea and enjoying being outside in the warm fresh air.  I'd say she is the same age as he is.
The hilarious thing about this couple, I don't know if you can tell, is that they are both stark naked. Whoever came up with this card is so right, the older we get the less concerned we are with appearances, and whoever it is that allowed themselves to be photographed, well, my hat's off to you!
Thanks for sharing a great card, Ann!
Later,
Mary Ann