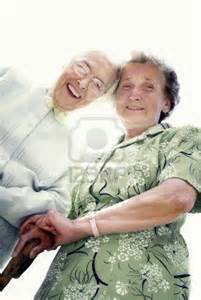 My father's mother was Italian. She was really old the day I was born and realy old twenty years later on the day she died. My Italian Grandma wore a dark dress every day of her life, a dark knitted shall, and support hose that came up to her knees. Her shoes were sensible black blocks, manish looking to me. She had a funny hair net she kept her silvery-gray bun in, she stuffed tissue up her sleeves, and was always clutching a rosary.
We didn't exactly have a "relationship".  I don't remember actually having a conversation with her, ever.  My dad would fetch Grandma from her house on Sundays and bring her to our house for dinner. We kids were always told to remember to talk to Grandma. This was kind of tough to do as she spoke Italish; a combination of Italian and English. Understanding her was a challenge. I always asked Grandma how she was doing. "Ohhh…she would groan, "Denise! Denise!" I had no idea who Denise was and why that was her answer. I would ask my dad time and again who the heck was Denise? He had no idea what I was talking about until one day, when he was in the family room with me and Grandma and I asked Grandma how she was. I signaled for my dad to pay attention. Grandma answered the usual "Ohhh…Denise! Denise!" and my dad nearly fell over laughing. Apparently, Grandma was saying "the knees, the knees!" Her knees were always causing her pain.
This is a perfect example of our lack of communication and that is the extent of my relationship with this woman, my grandmother. Looking back, I realize I had two disappointing grandma's. One didn't like us because we were the cause of my mother being tired all the time and we were a product of mother marrying an undesirable Catholic Italian, and the other didn't like us because she was too old, even when she was young, to be in any way involved in our lives.
I'll never forget a day when the youngest of my seven siblings came walking into the family room and greeted our Italian Grandma. Tami was the tail end of us kids and we don't think Grandma ever really understood that one more child had been born into the family. As far as she knew, the family ended at Tim, my brother born seven years before Tami.
On this particular day, Grandma was sitting in a wheel chair in the family room waiting for mother to call everyone to dinner. In walks Tami.
"Hi Grandma," she smiles and leans down to offer a hug.
But Grandma scowled and pushed her away, "Who are you?" she demanded.
"I'm Tami."  My sister looked exasperated. This wasn't the first time Grandma wondered who she was.
"Who is this "Tami"?" Grandma hollered at my mother.
"That's Tami, Grandma," Mother continued making dinner."You know."
"No, I don't know you," Grandma insisted shaking her head. Suddenly she shouts at Tami, "You get out of here!" She hollered, pointing to the door. "You go home!"
Tami burst into tears and ran downstairs to her room. Oh, well, I thought. Tami's always crying about something.
My mother wasn't thrilled with her mother-in-law at all. My parents had seven children and although mother was a petite and slender woman, Grandma always insinuated she was pregnant. Mother would be all fit and back in shape after having a baby and Grandma would inquire, "Jackie? You are in a family way?" and nod towards Mother's midsection with that knowing look. You could see steam rise from my mother's head.
"No, Grandma," she insisted, "I am not!"  Mother would be irritated for days.
My poor mother never entered a room Grandma occupied without getting the look, that ever so special nod in the direction of her uterus, and the inevitable question.
Her own mother hadn't wanted her to marry my Catholic Italian father because she figured she would be bare foot and pregnant her entire life – just as she was. Yet her mother-in-law took great pleasure in her being barefoot and pregnant all the time. Between the two of them, Mother about lost her mind.
TO BE CONTINUED NEXT TUESDAY!