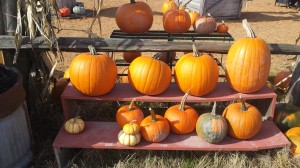 Sad to say, but there were many things I was looking forward to not having to do after the kids grew up, such as standing out in the wind and pounding rain watching softball or football, or whatever it was. And as much as we all pretended to love squeezing one more thing into frantic holiday schedules by attending yet another holiday kids concert, we couldn't wait to put the video camera down and go home. And remember those painful ballet performances and piano recitals? All the nerves we took on because our kids were so nervous? How we were so excited and scared for them we almost thew up ourselves? Oh, and what about the obligatory pumpkin farm that was a must-go-to this time of year. Anybody miss traipsing around with the kids in mud up to our knees with wet frozen fingers and runny snotty noses?
Well, I have to admit I miss every last bit of it. It's what makes grand-parenting so great. We raise our kids, take a good long break, realize we kind of miss it all, and then get to revisit the past through our grandkids. It's the best! No guilt attached if we show up late, no costumes to sew in the free time no one has, no baking cookies or supplying cupcakes. It all up to the parents now. As grandparents, our job is to simply show up and cheer. I can do that! In fact, I'm looking forward to it.
So, this afternoon, we will take our little grandson to the local pumpkin farm. We will dress in boots and hats and scarves and mittens and plod through the mud until we spot the perfect pumpkin. Then we'll dig it out of the soil and take it to the shed to be purchased along with some hot cocoa, or apple cider, and a few pumpkin muffins, of course. Hopefully, there will be a bunch of kids there to keep us company and provide entertainment and a sense of community. Wouldn't it be great if they have a hay ride or even a corn maize? And they might just have a cute little scarecrow and some corn stalks to decorate with. That would be fun.
I can't wait for his first little school event, even though it's a few years out. Maybe the preschools do little holiday concerts now days – do you think? I could do some baking when the time comes, make some cookies or cupcakes, bring some juice for the kids. And I can help sew his costumes. That sewing machine should be put to use, you know. Not doing any good collecting dust.
Maybe it wasn't so bad after all. Maybe we just needed a little break.
Later,
Mary Ann