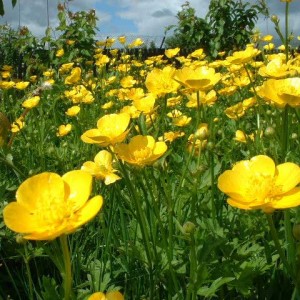 There seems to be a promise of spring in the air lately. Cherry trees are blooming, tulips are popping up, and temperatures are mild. Yet, I hold out for Buttercups. Nothing says spring like those brightly painted, happy little wild flowers, picked by the fist-fulls as kids. They are the official stamp of spring in my book.
I've been keeping an eye out for them, maybe I'll spot an early bloomer here or there.  But so far, I haven't seen any. Buttercups prefer warmer weather and sunshine, kind of like I do.  The longer the days are, the more likely we'll start hearing reports of Buttercup sightings.  They are almost as important as whale sightings this time of year. When the whales come through, we know summer is just around the corner.  When the Buttercups bloom,  it's even closer.
I think they're under-appreciated.  Have you ever seen a happier flower? Do you know of any other color that smiles the way Buttercup yellow does?
And Buttercups demand nothing of us. Everything they need is provided by Mother Nature. No soil preparation or fertilizer required. No weeding or hoeing. They get to be wild and free, the way we'd all like to be.  They grow anywhere there's soil, popping up here and there without a care in the world.
Some people consider them a weed. I never have.  Weeds are supposed to be nasty unsightly scraggly things we don't like to look at. Weeds aren't supposed to make us smile.
I think we should try and be more like Buttercups; cheerful, beautiful in a unique sort of way, low maintenance, spontaneous,  and full of new beginnings.
We've been swimming our way through the rainy Pacific Northwest winter long enough. That's right…keep an eye out…the Buttercups are coming!
Later,
Mary Ann