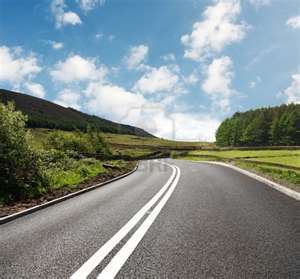 A lot of time has passed since I've taken a good long road trip, but I have one coming up. The price of filling up the gas tank has taken the fun out of this good old American pastime. We used to do them often, every chance we had. Driving allows travelers to observe the country as it is, not from above the clouds where everything appears to have a sense of order. A road trip is the real thing.
Did you know, outside of the Pacific Northwest, lush and green and amazing as it is, the sun is shining? Not only that, but the temperatures resemble the summers of old. Nice and warm in most places, downright hot in others. Looking out the window this morning, I've decided to wear sweat pants, a long sleeved t-shirt, and a rain jacket to take my morning walk. I'll need a hat. It's raining. If the wind were blowing I'd be wearing a fleece under my rain coat, but thankfully it's not. The dogs will be soaked to the bone by the time we get back. A little sun would do us good.
So a road trip to the sunshiny state of Texas where it's warm and dry and two thousand miles from home. That's the sad part, the many many miles apart. Not easy to visit there. Got to watch for those airline deals. Our goal has always been to raise our children to be adventurous, self reliant adults. I guess we were successful.
So, I will rejoice in the adventurous spirit of my daughter. Applaud her strength and independence and cheerfully go to a place I've never been to do something I've never had to do before: leave a member of our family so far from home to begin a new life, a whole new adventure.
Anybody got a tissue?
Later,
Mary Ann