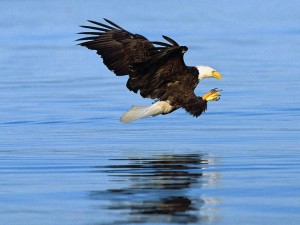 I can't imagine a world without music. Nothing compares to the soothing serenade of a well played violin or rag-time tunes as they dance off the keys of an old piano. Nothing gets under my skin and into my blood like the sweet crooning of a saxophone or the rich vocals of  folks like Roy Orbison or Christina Agulara.
Yet, I spent yesterday in my yard, pulling weeds by the bucket load, where I enjoyed equally beautiful music of a much different kind.  I listened as the gentle waves lapped playfully onto the shore with a delicate rhythmic sound that was truly hypnotic.  The bay was so quiet that the water sounds echoed off the shore and mixed with the occasional cry of an eagle. I heard splashes and looked to see both seals and sea birds diving for food. Mix the lapping with the splashing with the screeching, and it was natures orchestra at it's best. Or so one would think.
Just when I decided this was as good as it gets, I heard the swooshing burst from the blow holes of two gray whales. On a calm day their unique sound travels across the water for miles, letting us know they are on their way. We run for binoculars and prepare for the show.
If we close our eyes and listen, we hear the music of nature; lap lap splash splash screech screech swoosh swoosh. These sounds are definitely music to my ears. It really doesn't get any better than this!
Later,
Mary Ann