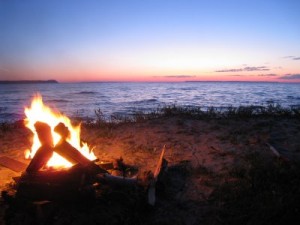 We gathered around the first beach fire of the summer last night. Not a giant roaring bon-fire, but a fire big enough to keep us warm, yet small enough for safety. The stars and the moon were out. Moonlight reflected across the water from one end of the bay to the other. There was no movement in the air and the water was smooth as glass. Pure magic!
At one point a small boat raced through the illumination as if a spot light found it for a minute and then lost it. I was hoping for a whale! What a sight that would be, breaching by moonlight for only a few to see. A private show for moon groupies like us. We take advantage of every night the wind doesn't blow and the rain stops. We have so few, you know.
Even as a child I was enamored with the moon. It lit the path to the outhouse when we were young and Dad was building the cabin. The outhouse stood behind the cabin and off to one side, visible yet tucked away among the evergreens. There were spiders living in it and monsters for sure and Lord only knew what was getting ready to jump out of the hole at any minute. But the moon lit the path and never ran out of batteries. It was the best flashlight a kid could ask for. "Just leave the door open," mom would say. "That way it won't be so dark in there."  It felt a little indecent yet we did it.
Beach fires are mesmerizing. I love it best when the flames are low and the logs are hot and glowing. That's the best time to roast marshmallows and the best time to wrap up in an old quilt and think about the rest of our lives. Are we where we wanted to be by this time? Are there bridges to mend and paths to cross?  Have we said I love you enough?
Thank God summer time rolls around once a year. We need the chance it offers to play outside, especially us adults. And it allows for a few warm nights with stars and moonlight and beach fires. I wish it would last a little bit longer. My battery is nearly dead by the time summer shows up so I plug into the long bright days and the soothing nights, recharging once again for another year; just in time to save me from completely running out. Nothing quite as magical as recharging our batteries by the light of the moon and the glow of the flames.
Later,
Mary Ann