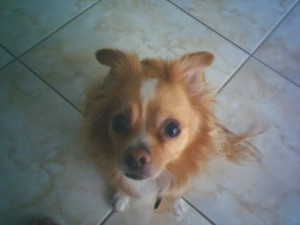 We have a new addition in our family. His name is Miles. He is three years old, a mere eleven pounds and the most adorable little guy you've  ever seen. He is yellow, fluffy, loves almost every one he meets and best of all, he is going home to live with my dad.
Miles has a big job to do. He must fill a giant gap in my fathers heart. Not used to living alone, it's been a tough six months with no one to greet him when Dad walks through the door. Yet in just a few days we are trusting that Miles will become a treasured companion, greeting  him eagerly every morning, snuggle up for naps, and getting them both out the door every day for a little fresh air and exercise.
Somehow, I'm sure Miles loves watching sports on television, being a couch potato and snacking throughout the day. He has an old injury to his back right leg, so short walks are in order much to Dad's relief. I think they're going to get along famously, filling a void in each others lives.
Dogs are healers. They know when we are sad, when we aren't feeling well, and when we're tired and need to rest. And when we celebrate and are full of joy, they are right there with us, talking to us with understanding eyes that dance with mischief and sparkle with excitement.
My dogs listen to my stories, sit close on the sofa as I read out loud and seek a favorable review. They love everything I write, wagging tails enthusiastically and nuzzling me with their cold wet noses. They are so easy to please. And dogs never criticize. They accept us for who and what we are, blind to our faults and failures. They need and take so little from us; food, water, shelter, and a little love and attention. We should all be so easy to please.
I'm excited for Dad and Miles to start a new adventure, a new chapter in an old book.  It's been a long time since my father has had a dog and I know he has wanted one for quite some time. And Miles, well no one knows anything about him except that he's eleven pounds of happy, eager to please, adorable homelessness, and I think he needs Dad as much as Dad needs him.
So, I raise my coffee cup and propose a toast to new friendships, new companions, a new chapter in life.  I hope and pray this is just the thing they have both been needing.
Later,
Mary Ann