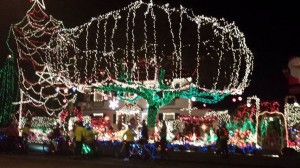 Last evening was dark early and freezing cold; just as it should be in Seattle this time of year. Yet, we bundled for the elements and  soaked up the infectious excitement of a toddler off to see Christmas light for the very first time. It was pure magic; the kind that warms you from heart to head to toe. Nothing like seeing the scene above through the eyes of a little one.
This Christmas Season, I'm going to try looking at the world like it's all new to me; as if I've never seen the beauty of the lights, tasted the freshness of a candy cane, or put eggnog in my coffee. I'm going to be in awe at Christmas Eve service and sing carols like I did growing up – loud and off key. And I think I'll take walks at night with my husband and our dogs and love the sky no matter what's coming down – rain, snow, moon light, star light – whatever's going on, it doesn't matter. It's all good and I am lucky to be here, alive and well, with people I love who love me too.
Have a very Merry Christmas!
God Bless,
Mary Ann