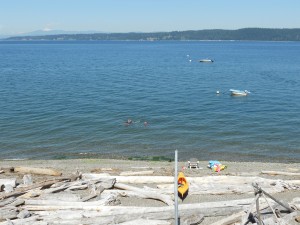 I sat on the beach yesterday with my daughter-in-law and her dear friend and laughed till I cried. Literally wiped away tears of laughter as I witnessed the girls get carried away in the hilarity of their goofy moment.
They were beyond comic genius, and the farther they went, the better I felt. Did they sense I needed a little release, a cleansing of pent up frustrations mixed with a dollop of anxiety? Or was it just chance that I stumbled upon "Laugh-In with Tanya and Katherine?"
I guess it doesn't matter, but I'm sure glad I did. Too much time has gone by since I've had a good belly laugh like that and somehow, it made every little thing all right. It was even better than a nap, or a glass of wine, or even a massage. My whole being lightened by this dose of all natural medicine. And it was free! No prescription needed!
I believe it when science says laughter is good medicine. It's more. A good hearty laugh can relax, revive, refresh. A good belly laugh releases tension and takes the edge off of difficult situations. Laughter can actually build relationships and diffuse negatives like anger, fear, grief, and sadness. It also redirects freed energy toward healing a sick heart both physically and emotionally.
Isn't it great! Of all the ways we choose to escape the hardships of today; the fires, the politics, our troubled society, the gift of laughter is a blessing under valued and overlooked. This weekend reminded me of just that. From now on, I'm going for a full on belly laugh every chance I get.
Thanks girls. You were just what the doctor ordered!.
Later,
Mary Ann