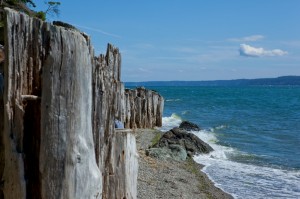 Admittedly, living on an island comes with a unique set of disadvantages. It's far away from everything, there's no place to shop, getting on and off is a problem especially with nothing more than a two lane bridge, and sand is as common between our sheets and in our hair as it is on the beach.
Yet, I believe the advantages far outweigh the disadvantages.  Life here is different than living on the main-land, where the synergy of city life generates constant motion.  There is an attitude on the island that commands a slow and easy pace of everything and everyone living here. We go by what's affectionately termed, "island time." Time is slower here. Minutes drag out and hours linger on the clock, each reluctant to give way to the next.
Island driving takes getting used to. Most folks drive slowly, a little under the speed limit, usually because it's nearly impossible to tear our eyes from the snow capped mountains and sparkle's dancing on the water. Consequently, we slow down and enjoy the view and arrive late everywhere we go.
Eating out here, is always fun. We have a few nice places to enjoy a good meal without even crossing the bridge. One needs to realize there can be no hurry, though.  Not for the cook, not for the waitress, and definitely not for the customer. It's just going to take a little time, so we've learned to chill and settle in for the duration. But it works out fine because it give us a chance to visit with neighbors also waiting for their food, a menu, or just for someone to bother and notice they've walked through the door.
Fashions come and go without most of us discovering them until it's too late.  By the time I get around to visiting town for some real shopping, an entire set of fads have come and gone and I'm right back to the basics again. I'm always on the look out for good rain gear though, and boots that will withstand the damage of saltwater.
I believe my blood pressure is about as low as it can go for a human being to stay alive. That's good. If I need some excitement, there's always plenty of entertainment out on the water or up in the sky. Eagles soar and screech and this is a great time of year for whale watching. And there's always something happening on the beach.
And when the sun shines, there is nothing like it, and no one cares what they're wearing. As long as we can roll up the pant legs and layer down to a t-shirt, all's well in our little piece of Pacific Northwest Paradise. But there's no hurrying Mother Nature.  Warm weather will arrive one day when we're all so tired of waiting for it that it's a forgotten dream. And then, just like that, we'll be soaking up the Vitamin D.
Yes, there definitely are disadvantages in living here. Yet I do believe I'm staying, regardless. Slowing down suites me just fine.
Later,
Mary Ann