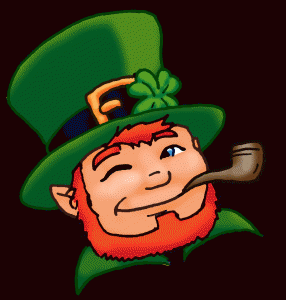 It's surprizing how many people become Irish on St. Patrick's Day.  I've no Irish blood in me, but I love the whole St. Patrick's Day celebration.  When else do we have the opportunity to cover ourselves in green spray paint, stick shamrocks on our faces, leprechauns in the closets and enjoy a cold Guiness to boot?  When else do we absolutely die for corned beef and cabbage?
How did it all happen, this super hype over a pot of gold at the end of the rainbow? Maybe we just needed another excuse to have a party, something more to celebrate.  I think it's important for adults to take the opportunity to be goofy, and applauded each other for it. We're always so serious. We work, parent, clean, train, study,worry, and work some more.  St. Patrick's Day is a day off from all of that; a chance to be a kid again. At least for a few hours, anyway.
So, even if you're not Irish, get Irish for the day! Put on a Leprachaun hat and some green nail-polish and go out for a green whatever.  Listen to some good ol Irish music, some bag pipes and Oh Danny Boy.
Remember; life is short and we only get one go around. It's important that we grab the cheap plastic gold ring every chance we get!
Later,
MaryAnn