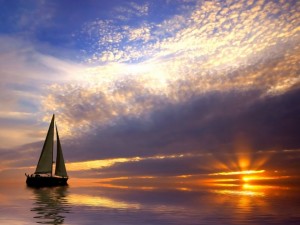 We headed out with the faintest hint of a breeze, trusting it would whip up into a full on wind once we got our gear on board and her sails up. The four of us plus our fifteen month old grandson, loving the warm muggy day, just wanting to be on the water. The north bound current was surprisingly strong but the south bound breeze was definitely not.  The neighbors said it looked as though we were standing in place out there; going nowhere.
Yet, to us we were "making trees". The breeze picked up a little bit, we tacked across the bay in extreme slow motion. We may have been going nowhere to everyone else, but to us, we were on our way to paradise.
Our grandson lay his head back in his mommas arms and watched the sails in wonder. We ate cherries and nectarines and drank champagne and orange juice. It was a quiet lazy sail, so quiet we could hear the hull slip through the water, the splash of fish jumping, the gentle flutter of a sail. We were going everywhere, each one of us, in the quiet of our minds, no one saying much.
We barely moved for several hours yet we didn't care. The therapy was working; blood pressures low, stress out the door, anxiety gone. Huge heavy sigh. There. All is good with the world and peace resides in the soul. We can go back now. And so, we started up the engine, dropped the sails, and meandered on home.
As it turns out, nowhere is a really good place to visit now and then.
Later,
Mary Ann