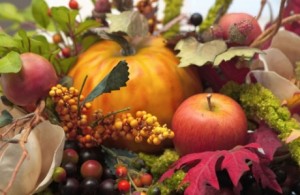 It was late afternoon and a small smokey fire crackled in the pit down by the beach. Leaves were everywhere; a mosaic of gold, red and brown.  He pulled a rake through the fallen as if following the outline of a mountain stream exposing a green path underneath. The recent rains had brought the lawn back to life. He could see their children as youngsters again, running out of the house then, through the trail of green leading them right into his arms. He would lift them high in the air and swing them around; laughter and giggles and do- it- again!
She made the coffee extra strong, not sure exactly why. The day was full of richness, strong coffee seamed called for. Opening the back door released the aromas of slow cooking onions, carrots, potatoes and pot roast. It would be a while before dinner yet they could hardly wait. This was, after all, the first official fall meal of the season.
The small garden boasted pumpkins ready for pies or for carving. Maybe some pumpkin bread this year, and soup. Pumpkin soup would be wonderful. She closed her eyes for a second and inhaled the scent of the earth as the rake disturbed the natural process of decomposing the leaves. He stopped working to accept the hot cup of coffee spiced with cinnamon and nutmeg she offered. Without a word they meandered to the old wooden swing on the porch and took a seat.
She crossed her legs over soft denim jeans and smiled as a clump of dirt fell from the thick soles of her rubber boots. She would be sweeping the porch soon. The man gave a tug on his cap, pulling it down to protect his eyes from the setting sun, a fireball of brilliance. It wouldn't be long before the light and warmth of the day would be gone. They'd kick off their boots and go in the house, maybe enjoy dinner by the light of the moon and the heat of the gas fireplace. That would be nice. A perfect way to welcome back the glories of the season of change.
Enjoy every minute you can. It's gone in the blink of an eye.
Later,
Mary Ann