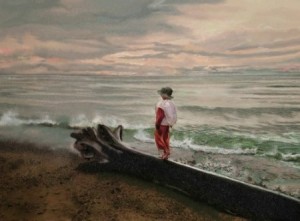 Everything is getting soggy. Even my dogs are squishy, ring-me-out, soggy. Have you walked across your lawn lately? Don't do it. You could drown out there or sink down in mud so deep you'll never be seen again.  It's like the quick sand in those old Tarzan movies where some guy on safari has fallen in. He struggles to get hold of a good strong branch in order to pull himself out. He grasps it just in the nick of time and we all exhale only to suddenly gasp again! The branch turns out to be a king cobra.  We say our goodbyes. Next thing we see is his safari hat sitting on top of the quick sand, marking the spot.
Well, it might not be quite that bad, and I'm probably the only one who remembers those old Tarzan movies anyway, but you get my drift. It's a tough time of year for us Pacific Northwest folks. The Holiday Season is behind us, the decorations all put away, there's nothing left to celebrate.  We look forward to spring but let's face it, spring is a long ways away. By mid February we're desperate. The dark rainy short days really start getting us down. About then I always decide to change my hair color and start walking around the house barefoot wearing shorts and a t-shirt.  As if I can influence mother nature to hurry up and change along with me. Of course, I just end up staring in the mirror at hair I can't stand while I freeze to death.
I have to remind myself that this time of year is temporary. When it's gone we're left with the bluest skies, brilliant white capped mountains, lush greenery everywhere, warm sunshine, and clean clear water. It's a unique kind of paradise and we are a unique kind of people. I'm proud of us soggy ones! We webbed wanderers of the Pacific Northwest. We're surely made of special stuff, like gortex and fleece.  And somehow, for the most part, we manage to stay afloat and emerge from the swamp carrying our coffee and wearing a smile.
Hang in there every body. The good life is coming – it's  just up ahead, around that really big bend!
Later,
Mary Ann