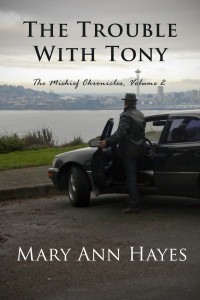 To All my Family, Friends, and Followers,
I've just had my novel, "The Trouble With Tony", The Mischief Chronicles, Volume 2, released. I am excited about this book, the sequel to "A Friend Like Frank". It is lively and entertaining and good fun, introducing a few new characters to the Friend Like Frank family.
Tony Russo is a just-barely-legitimate Private Investigator looking into an "accidental" death tied to Harold Lawson who is an old high school flame of Vicki Wellington's, and a true rival to her ex-husband, Ross.
The Mischief Chronicles, Volume 3, is in the works. It is titled "All Bet's Are Off."  I'll let you know when it's available, even though it won't be for a while.
If you haven't read "A Friend Like Frank", it is available through Amazon in both paperback or ebook form for us Kindle users. It is also available through my web site www.maryannhayes.com which is where I'd love to have you order it! I sign all copies and pay the tax and shipping on every book purchased through my web site. And if it's more comfortable for you to just send me an email order with a shipping address, that's fine too. The books are $13.00 each. Send a check along.
You'll want to read "Frank" before moving on to "Tony".  Although each novel stands alone, I think they are more fun when read in sequence.
Thank you all for your support and I hope you have a great time reading "The Trouble with Tony"! I'd love to get feedback from you anytime!
Later,
Mary Ann   (maryannhayes@gmail.com and www.maryannhayes.com)